Skip Navigation
Website Accessibility
A Winter's Village II
Canvases by Kelly Clark
Stitch Guide by Alison Hodgkiss
18 mesh
The kits will include canvas, threads, stitch guide and
the miniatures shown in the picture.
Give us a call for current pricing and availability
Gate Keeper's Cottage 5 X 7
Village Birdhouses 5 X 1.5
Barber, Tailor & Green Grocer 9 X 9.5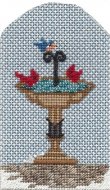 Village Gatehouse 7 X 4.5
Village Toy Shoppe 8 X 7.5

There is the option to buy specific pieces but the prices will be based on the canvas cost plus threads, guide and embellishments. Contact us for specific piece prices.