Skip Navigation
Website Accessibility
Weaving, Bunnies, Knitting and Crochet
Gina Liuzzi will be teaching
Peep by Machelle Sommerville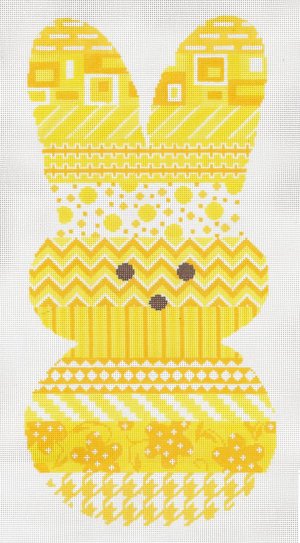 This canvas is available in yellow, lavender or pink.
13 mesh and measures 8.5 X 18.
Class Fee $100.00 paid to Gina
Canvas $175.00
Materials $140.00
Class will be held September 22 and 23 from 1-5.
Sign up now so we can have your canvas in time for class.
Kits will be available for those of you who can't get to the shop for the class. Just let us know what color Peep you would like to order.
Timmy Schultz will be teaching
Junior by Labors of Love
This canvas is on 18 mesh and measures 8X12
October 17 and 18 from 11-3
Canvas $210.00
Threads and accessories $170.00
Teaching Fee $100.00 paid to Timmy
Call to reserve your place in class. We need a head count soon in order to have the canvases in time for the class.
If you can't make it to class we can kit this beautiful project and ship it to you.
The Melissa Shirley Trunk Show Ends this Saturday.
There is still time to come in or call with an order!
Through July 21 take 20% Off your Melissa Shirley Canvases.
Here is the link to her website if you can't get to the shop.
Call us with an order. We are happy to ship! 626-793-5217



Our next Trunk Show is A Poore Girl Paints.




As soon as it arrives I will send an email with a like to their fun canvases.






Weaving:
Deborah Jarchow will be here to teach this great market/tote bag on Monday, August 20, 2018.

You need to be familiar with and own your own rigid heddle loom.
Class time is 9:30-5:00 and will include lunch.
We will take a maximum of 10 students for this class. The material and instruction cost is $165.00. This includes 4 balls of Trendsetter Ecotone yarn, lunch and the teaching fee.

There are two spaces left so call to sign up today.





Beginning Crochet and Knitting



If you are interested in learning the basics of crochet, join us for a beginner class on Thursday, August 23 from 1-4. $35.00 plus materials. Call for more details.



How about learning the basics of knitting? We have a class for that on Thursday, July 26 from 1-4. $35.00 plus materials.




These two classes are limited to 6 students. Sign up early!



We have finally put all of our A Stitch In Time Needlepoint designs on the shopping pages of our web site. Be sure to take a look.
Here is the link. You can purchase these right from the web site or call us to order if you would like thread pulled.

Barbara Elmore is doing a cyber class
with a canvas she designed called Frank's Bride.

You will pay her directly for the cyber class but you will need to order the canvas, lace and threads though us.
18 mesh 10.5 X 22


Canvas $525.00




Lace Kit $30.00




Class Fee paid directly to Barbara Elmore $120.00




Threads cost to be determined.


If you would like to sign up let us know soon.
The on line class will begin late this summer.

We look forward to hearing from you!
Alison
A Stitch In Time
2465 Huntington Dr
San Marino, CA 91108
626-793-5217
asitinc@sbcglobal.net