October
Happy October!
In Southern California we are still waiting for the end of summer, but many of you are already enjoying this great time of year. We have a few events to let you know about so here we go.

Tomorrow, Friday October 5th 10 - 3

BAUBLES AND BUBBLES
Please join us and Children's Chain of Los Angeles for the unveiling of
The Treasured Accessory.
This is a giant collection of faux diamond and gemstone jewelry.
Prices range from $30 - $165
20% of the proceeds benefit Children's Hospital Los Angeles.
20% of all purchases in Hodge Podge will also be donated.
Please come and support a very worthy cause.


Weaving Classes
Elizabeth Quick a Tapestry Art and Weaving instructor will be teaching a series of beginning weaving classes
November 6, 13, 27 and December4th from 6 - 8
The class is $125.00 for four classes and the materials.
You will learn several basic weaving techniques in the four weeks. Please call the shop and make your reservation.
Afghan Mystery Class
Stay in touch for more information on this. The plan is to give participants two block patterns a week. We will have a question session once or twice a month if you get stuck. When all the blocks are knitted we will show you how to sew them together and you will have made a beautiful afghan and had a great time making it. The blocks measure 9 X 9. The cost will be $5.00 per pattern plus the cost of the yarn. Shelby has some of the completed blocks. We expect to begin the class by early November.
Potion Bottles

Gina will be teaching the first three in this series October 13th. If you can't make it to class we can always ship you the guides, canvases and fibers.
Call for pricing and availability
.

Heritage II Ornaments
We are taking sign ups for these beautiful ornaments. The series begins January 15th. It is 12 months. You can purchase the complete kit, canvas and kit or canvas only. Click the link to be taken to the class page of your web site.
Heritage II Ornaments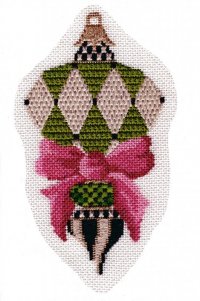 Trunk Show:

In November we will have Associated Talents and Lee leather goods and canvases.


Go to Associated Talents to see what you can order. If you can't make it to the show call us and you will still be able to take advantage of the 20% off show discount.

The Lee show will be all of the small canvases and wonderful leather goods that you can finish yourself. You could get these done for the holidays!!!
And finally

The Fab 4 Canvas Embellishment Class
August 29, 30, 31 and November 1, 2013




The Fab 4 are Meredith Willett, Tony Minieri, Beth Robertson and Susan Howren.
They have taught this multi teacher class for many years and we are lucky to have them at A Stitch In Time!
You will work on one canvas with them over the four days. They each have a special talent for canvas embellishment. We can only take 53 students so don't wait to sign up. We have a block of rooms reserved in Old Town Pasadena and the Courtyard by Marriott Hotel.
The room are singles or doubles and run $150.00 per night including tax. You can adjust your check in and check out days to fit your schedule. We will have shuttles to pick you up at the hotel and bring you to the shop.
Lunch will be included with your class fee of $475.00. Your Hotel, breakfast, dinner and materials are not included
.

You can call the shop and we will send you a sign up form that has more details.

A Stitch In Time
2465 Huntington Dr
San Marino, CA 91108
626-793-5217
asitinc@sbcglobal.net